2021 Festival Announcement
January 22, 2021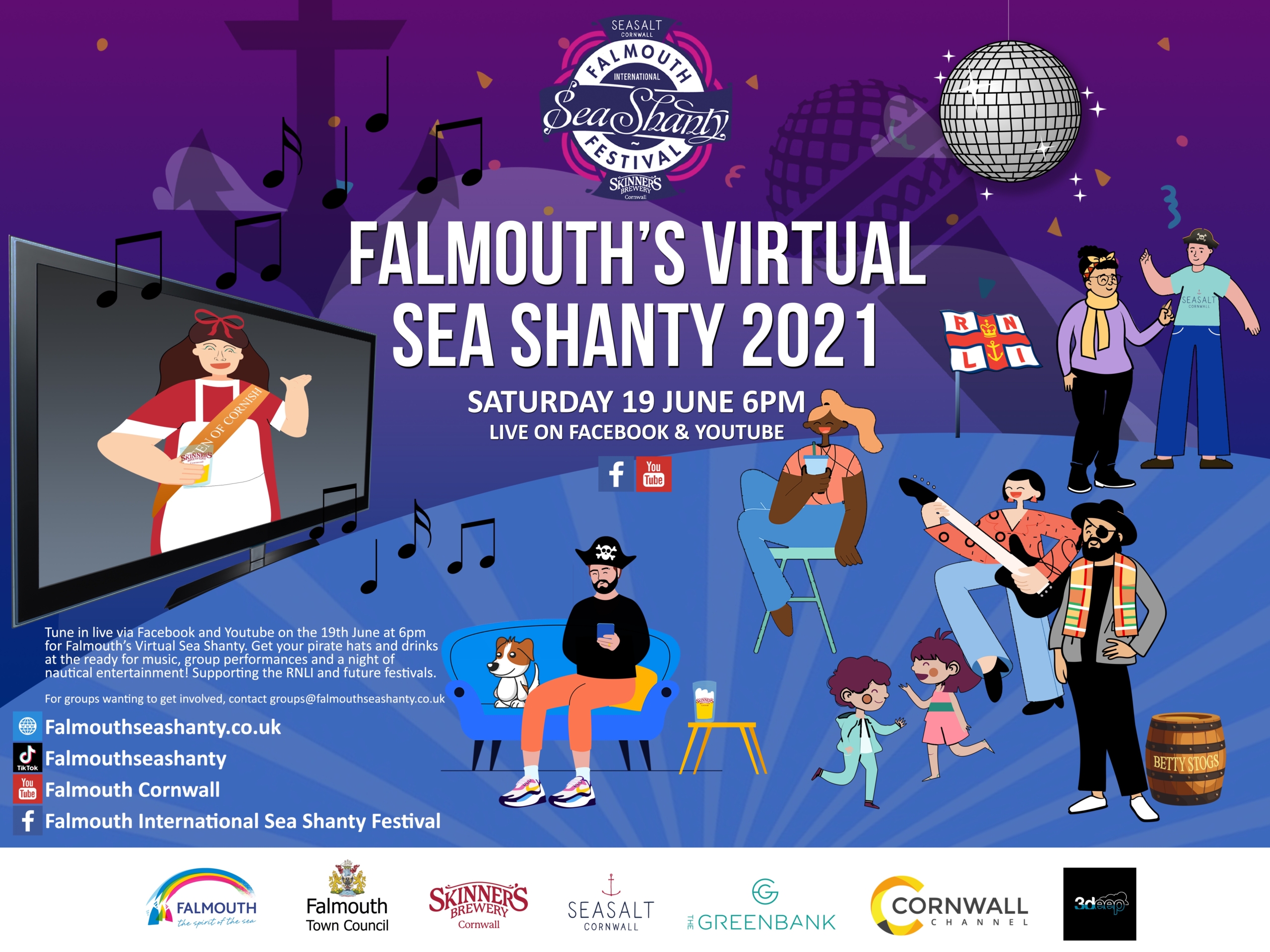 A unanimous decision has been made by the organisers of Falmouth's International Sea Shanty Festival to announce that this year's event, due to take place from the 11th – 13th June will be going virtual for 2021. The Virtual Falmouth International Sea Shanty Festival will take place live on Facebook and YouTube at 6pm Saturday 19th June. See the festival line-up here.
In respect of the current situation with Coronavirus (COVID-19) and given that the Festival normally attracts in excess of 65,000, it would not be feasible to go ahead with the physical plans for this year.
The virtual evening will be presented by Betty Stogs, John Warren, and Richard Gates, Falmouth Town Manager, and the rousing event will take place in the Cornwall Channel Studios. The event will offer a selection of live and pre-recorded performances, alongside competitions, fabulous footage of Falmouth from 3Deep Aerial, and in true shanty tradition, will raise money for the Sea Shanty's chosen charity, the RNLI and future festivals.
Richard Gates, Festival Chairman, says "This is a challenging time, not only for the UK but for many countries and we thank you for your understanding in what for all of us, is an unprecedented and unexpected environment. It hasn't been an easy decision to go virtual for a second year running, but the safety of the public is paramount, and we think everyone will understand why we have taken this decision."
John Warren, Vice chairman and one of the Sea Shanty Festival founders added, "We could not under any circumstance, predict with any degree of certainty that this fabulous event could go ahead in the manner and scale that makes it so uniquely popular. We have therefore unanimously vowed that the festival will return bigger and better as soon as it is safe to do so."
Richard adds, "We hope for the support from the town and all festival-goers as we look onward to plans for next year's Shanty Festival. I would like to say a big thank you to everyone for their continued support and an additional thanks to Skinners and Seasalt for their ongoing commitment as well as all the other sponsors involved in the festival."
Falmouth Classics, all being well, will currently be going ahead on 11 -13 June and will feature a dedicated three-day regatta with heritage and classic sailing from a variety of boats across the Falmouth Harbour and Carrick Roads http://www.falmouthclassics.org.uk
For anyone wanting to get a taste of what to expect at the virtual event you can view previous live videos here: https://www.facebook.com/falmouthinternationalseashantyfestival/.
For any groups wanting to take part in the event, please email groups@falmouthseashanty.co.uk. We will look to announce further details in due course, so please keep an eye on social media and the website for any further updates.
Future festival dates are as follows:
17th – 19th June 2022
16th – 18th June 2023