18th June 2014
June 18, 2014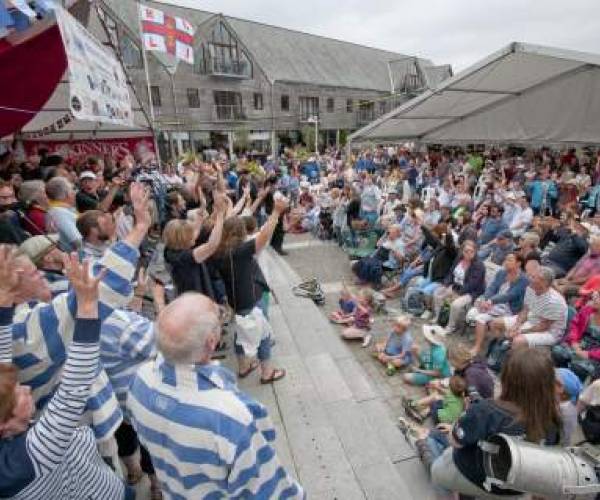 Sea Shanty Festival's Biggest Year Yet!
This year's Falmouth International Sea shanty Festival saw the biggest crowds yet with over 25,000 visitors throughout the town during the weekend! We had sunny main stages, outdoor shanty stops, traditional venues and the first ever Gala Concert all in aid of the RNLI. It was an enormous success and we want to say a big thank you to Skinners Brewery and Seasalt Clothing for all their support. We'd also like to thank all volunteers and committee members for all their efforts and the hard work they put in to make the event such a success!
Town Manager and Chairman of the Organising Committee, Richard Gates said "The festival was a phenomenal success with a brilliant atmosphere throughout the town. It takes an unbelievable amount of planning and hard work to ensure an event of this scale comes together as well as it has done. I would like to thank everyone who is involved and especially the festival committee. The money raised has been truly amazing and is still being counted and the support of volunteers and businesses really goes to show how this festival has developed."
It was a truly remarkable year for the Beat Betty Challenge with shanty group Pirates of St Piran taking the lead and raising £1,194 and Shake a Leg were runners up raising £890 for the RNLI. Betty Stogs from Skinners beat her record and collected over £2,400, with still more to be counted! A big thank you to all the groups who put efforts into raising money and awareness for the RNLI.
Steve Skinner said "Skinner's are so proud to be involved in this fantastic Cornish event for the 11th year running. We'd like to thank all the Falmouth pubs, singers and organisers for all their support and hard work to make this event such a success each year and of course Betty Stogs who simply loves this festival and looks forward to it many months in advance. We're looking forward to 2015 already!"
This year's festival had something for everyone. Groups performed on main stages, in pubs, restaurants, shops, in the street and for the first time ever, the Gala Concert at The Princess Pavilion!
Neil Chadwick, Joint Managing Director of Seasalt said "the weekend was such a success and we are proud to be a main sponsor. It was fantastic to have our shop full of shanty singing and we look forward to continuing our support in the future!"
On Saturday the Classic Parade of Sail & Power progressed from Falmouth Harbour around the headland to Pendennis Point. Preceding the parade was a demonstration by the Crew of the Falmouth Lifeboat and water cascades from the Harbour Tugs.