24th November 2014
November 24, 2014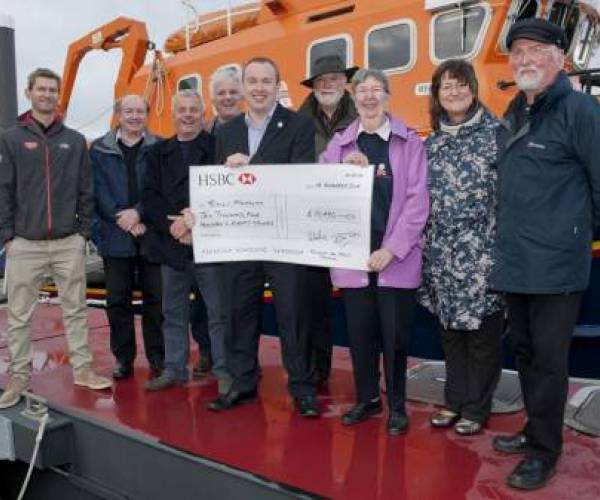 Shanty Festival Raises Over £10,000 for RNLI
From left to Right: Brad Rochfort, Keven Ayres, John Warren, Alan Barnes, Richard Gates (Chairman & Town Manager), Dave Wakeling, Brenda Grieve, Jules Warren, Brian Taber
Photo credit Simon Culliford
The Falmouth International Sea Shanty Festival Committee presented Falmouth RNLI with a cheque for £10,480 last week from funds raised at the 2014 Falmouth International Sea Shanty Festival.
The 2014 Festival collected more money in three days than any previous year. Over the 10 years that the festival has been running funds exceeding £50,000 have been raised, with £29,686 raised in the last four years alone, giving the RNLI much needed resources to save lives at sea.
The £10,480 will be spent to benefit the Falmouth Lifeboat Station, which can put it to good use in a number of different ways. The average yearly running costs of an All Weather Lifeboat (ALB) station are £195,000, with annual crew training costs for an ALB station at £26,000.
Richard Gates, Town Manager and event Chairman, said: "Raising this amount of money from just one weekend is an unbelievable achievement, and it goes to show what a great festival it is, and how it continues to improve. This incredible success could not be possible without the huge generosity of everyone supporting the event, including the many groups who give their time to make the festival what it is. Betty Stogs and the Beat Betty competition raised a large proportion of this money and we hope that this will continue to increase year on year."
Alan Barnes, RNLI Chairman for Falmouth, said: "It's great to be part of a festival where so many people come year after year and have such a good time.  But they also know they are supporting Falmouth Lifeboat and the crew in their efforts to keep people safe at sea in the area."
Brad Rochfort, Skinners Brewery, has seen the festival's growth first hand. Brad said: "Skinners Brewery are so proud to have been part of the Sea Shanty Festival since the beginning, and it's amazing to see how popular the event has become with shanty singers from the UK and all over the world. It's a great weekend which has proved so beneficial to the town and of course raised vital funds for Falmouth's RNLI!"
Neil Chadwick, Joint Managing Director of Seasalt and committee member, has been involved with the festival since the company came in as joint main sponsor alongside Skinners Brewery in 2014. "Becoming part of the festival has been fantastic for Seasalt, and its success is thanks to the incredible hard work and vision of the organisers, without whom this money couldn't be raised. Thanks for asking us to be involved and roll on the next festival…bring it on!"
The Sea Shanty Festival has been delighting revellers since 2004 with a range of traditional shanty performances in key locations around Falmouth, and is one of the biggest maritime concerts in Europe. 50 groups have already been confirmed for the 2015 festival, including 8 international groups from Ireland, France, Holland and Poland.