Sea Shanty Festival Has Bumper Year!
June 25, 2017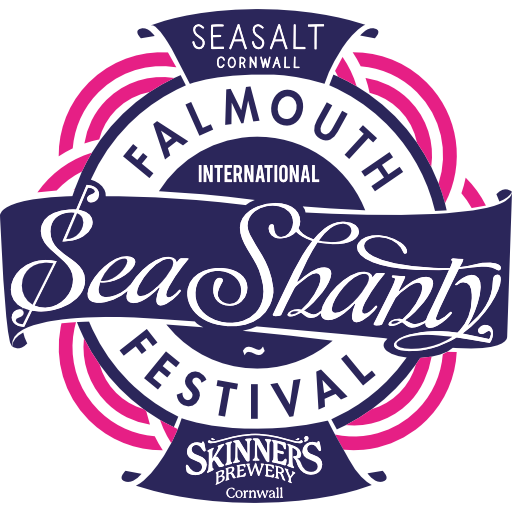 This year's Falmouth International Sea Shanty Festival saw the biggest crowds yet with an estimated 50,000 visitors throughout the town during the weekend! We had the most perfect weather for performances through the town and at the main stages, traditional venues and the sell-out Falmouth Packet Gala Concert all in aid of the RNLI. It was an enormous success and we want to say a big thank you to Skinners Brewery and Seasalt Clothing, as well as all of the other sponsors and advertisers, for their support. We'd also like to thank all volunteers and committee members for all their efforts and the hard work they put in to make the event such a success!
Unbelievably, Betty Stogs from Skinners beat her goal of raising £6,000 for the RNLI, which is the most money raised yet, with still more to be counted! Betty even took a dip in the harbour to encourage more donations, and she reached her target during the closing ceremony thanks to the generosity of the crowd. The festival committee would like to thank each and every person who donated, collected, and helped to raise money to save lives at sea.
Betty Stogs, of Skinners Brewery, said: "I've had a great time this year, as always, and the people of Falmouth (and beyond!) have been so very giving. The festival is one of the biggest events for me, and I really enjoy meeting everyone and raising money for the Falmouth RNLI. An anonymous donor even placed a blank cheque in my bucket, in case I missed my target, which was absolutely amazing. I'm very happy that together we raised over £6000, and I got a dip the ocean for my troubles!"
Town Manager and Chairman of the Organising Committee, Richard Gates said "It takes an unbelievable amount of planning and hard work to ensure an event of this scale comes together as well as it has done. I would like to thank everyone who is involved and especially the festival committee. The money raised has been truly amazing and we would like to say a big thank you to everyone who helped with our fundraising. We will know the exact amount raised for the RNLI in the coming months."
Two group winners were announced for the Beat Betty Competition: The Pirates of St Piran and Nordet. It was a remarkable year with shanty group Pirates of St Piran, who raised nearly £3000, with counting still underway. Breton group Nordet were announced the individual winners, raising over £100 per member!
Steve Skinner, Director at Skinners Brewery, said "Skinner's are so proud to be involved in this fantastic Cornish event for the 14th year running. We'd like to thank
all the Falmouth pubs, singers and organisers for all their support and hard work to make this event such a success each year and of course Betty Stogs who simply loves this festival and looks forward to it many months in advance. We're looking forward to 2018 already!"
This year's festival had something for everyone. Groups performed on main stages, in pubs, restaurants, shops and in the street.
"We're very proud to have been able to support the Sea Shanty Festival again. What a wonderful weekend of people coming together to celebrate Cornwall's maritime heritage and culture, something that inspires our collections and is a really big part of what makes Seasalt unique." Neil Chadwick, Seasalt Co-founder & Chairman
The dates for the next two years have already been confirmed, so shanty lovers can start planning their next visit straight away!
The 2018/19 festivals will take place on:
22-24th June 2018
14-16th June 2019